What's driving pharmaceutical innovation in the APAC region?
Quantitative review analyzes key drivers and ranks drug developers
What countries/regions are the most conducive to innovation? Which companies are currently leading the way? Who is best positioned for future success – and why? Get answers to these and other questions in this definitive report on pharmaceutical innovation in the APAC region. Using a bespoke definition of innovation developed specifically for pharmaceutical companies based in this part of the world, we conducted an exhaustive analysis of more than 46,000 companies to understand exactly what is driving successful drug development and commercialization. Download the report now, then contact us to lean how Cortellis can help you accelerate innovation.
Report highlights:

Country/region drivers
We reviewed pipeline activities in 14 countries/regions to understand the development landscape and isolate innovation drivers. Get the full report to understand the local APAC dynamics that enable — and inhibit — innovation.

Company-level rankings
Our analysis zeroed in on 1,032 companies ranked on three key indices: Early-stage Partnering, Drug Development and Maturity. See how the top scoring companies measure up, including discrete index and composite innovation rankings for each.

Small & medium companies
Given the sheer volume of small and medium-sized companies throughout the region, we focus on unique innovation drivers and discuss their implications, then benchmark top scorers to compare performance.

Future outlook
Our analysis demonstrates that while the APAC region is a rich source of innovation, the world is not benefitting from companies' R&D activities. Learn why — and what companies should consider as they look to drive future growth.

Key Point 5
Neque viverra justo nec ultrices dui sapien eget. Lectus sit amet est placerat in egestas erat imperdiet. Adipiscing bibendum est ultricies integer quis.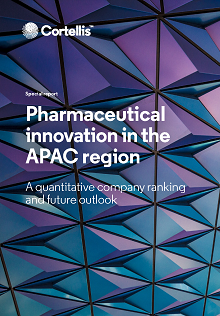 Download now
Learn what's driving innovation, where and why
Get detailed rankings of companies' innovation scores
Complete the form below to download the report.