How your institution can quickly compile data needed to obtain funding for open access publishing from national funding programs?
Find out how OA Monitor uses Web of Science data to provide institutions with comprehensive data to support them obtain funds for open access publishing
Academic institutions and libraries can avail of a few funding programs to obtain funding for open access publishing, but this implies compiling data on contributing authors and publications, which can be time consuming and difficult to combine if using different data sources.

In this case study, we look at how Forschungszentrum Jülich, a non-profit research center, part of the Helmholtz Association in Germany, uses our Web of Science data for the OA Monitor, a comprehensive searchable database of information on the volume and financing of open access pubblications across the DACH region, with high quality publications metadata.
The case study highlights:

More about the customer and their mission



Outcome and future outlook

Euismod in pellentesque massa placerat duis ultricies lacus sed. Sit amet luctus venenatis lectus magna fringilla urna porttitor rhoncus.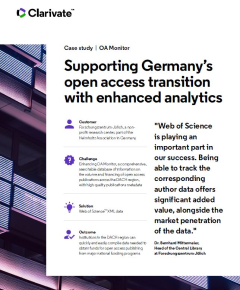 Register below for full access to the case study