Every citation needs context
White paper: Interpreting the citation performance of individual researchers with beamplots
No one's career can be boiled down to a single number, and neither can their publications. But following best practices for research evaluation can be complex, and sometimes seem impossible at scale. Clarivate is committed to supporting the research community to practice more responsible research evaluation, and we're excited to introduce Web of Science™ Author Impact Beamplots: a new way to understand the citation impact of an author's research.​
Key points:

Discussing the community efforts to reform research assessment and encourage the responsible use of metrics.

Introducing a new visualization tool: Author Impact Beamplots. Detailing how to read a beamplot and its limitations.

Explaining how Author Impact Beamplots use percentiles instead of the raw citation counts.

Describing the utility of the beamplot and positioning its use within a wider evaluation context.

Euismod in pellentesque massa placerat duis ultricies lacus sed. Sit amet luctus venenatis lectus magna fringilla urna porttitor rhoncus.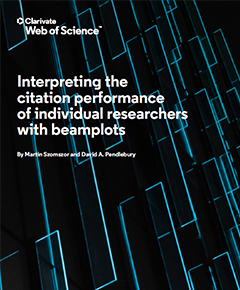 Register below for full access to this white paper.