Supporting academic research – understanding the challenges
Findings from a 2022 study of researchers and members of research offices in the UK, the US and Australia

Ex Libris partnered with Alterline, an independent research agency, to conduct a survey of 300 researchers and 100 research office leaders. Download the report to uncover the key findings.

You'll learn how:
• Showcasing research expertise through online profiles is proving difficult over time
• Research collaboration is an increasing priority and researchers are more heavily focused on interdisciplinary work
• Open access compliance remains a key area of collaboration among libraries and research offices
• Research funding remains a key priority, as is diversifying revenue streams
• Research office leaders report limited time and resources to support researchers
• The move away from traditional impact metrics continues to be led by the research office
• Researcher expectations from the research office and the library are changing, particularly relating to compliance issues
Complete the form to read the report to uncover more insights, including how researcher expectations are changing.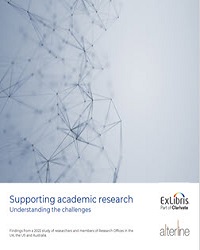 Please complete the form to download the report.