Transforming customer experience to drive business performance
A great customer experience (CX) can turn customers and clients into enthusiastic advocates for your company or firm. But first you need to understand what really matters to them.
In this case study, a company in transition, Prime360®, partnered with Clarivate to develop a roadmap for delighting their customers –and transforming their business. Clarivate Customer Experience (CX) Services help organizations implement CX and journey mapping programs that drive deeper customer insights, higher revenue, better retention rates and improved margins.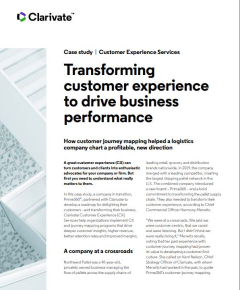 Register below for full access to this paper.