Bridging the gap: using data to enhance global engagement
Insights for successful international collaborations and partnerships

Read the case study to learn how Laurel Thomas, International Research and Global Engagement Data Manager at the University of South Florida (USF) used Web of Science™ and InCites™ to identify, evaluate and benchmark key insights for successful collaborations.

The Challenge: The international engagement office needed to better understand global activity happening at USF to encourage and showcase strategic collaborations and outcomes.

The Outcome: The Web of Science and InCites helped USF build a comprehensive picture of the projects and partnerships happening across campus and abroad. This nuanced view enabled USF to support and develop their global collaborations and networks and share insights about their international connectivity.

Complete the form to read the case study. And contact us today to learn how we can help you define, support and enhance global collaborations at your institution.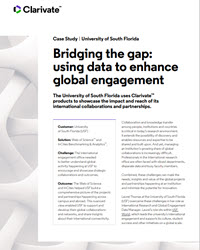 Please complete the form to download the case study.